GE Health "Wear Red" Campaign
The Wear Red Campaign was designed to inspire and educate women regarding the importance of maintaining good heart health emphasizing prevention and early detection. GE Healthcare is the world leader in medical technology. This campaign also emphasized how GE Healthcare technology is being employed to help women lead more heart healthy lives.
This campaign is a collaboration between Rippe Lifestyle Institute, GE Healthcare and the Meredith Corporation, publishers of Ladies' Home Journal, Better Homes and Gardens and More magazines.
The campaign involves multiple elements including a satellite media tour, multiple print articles, research presented at major scientific congresses, as well as internet outreach. The year long program culminated with an appearance by Dr. Rippe on the Today Show and an online auction on eBay in support of Wear Red.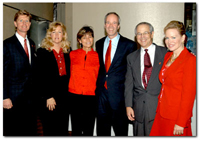 Click here to view images of the "Wear Red" Gala Held in New York.
Click here to view GE Health "Wear Red" Support Video featuring Dr. Rippe.